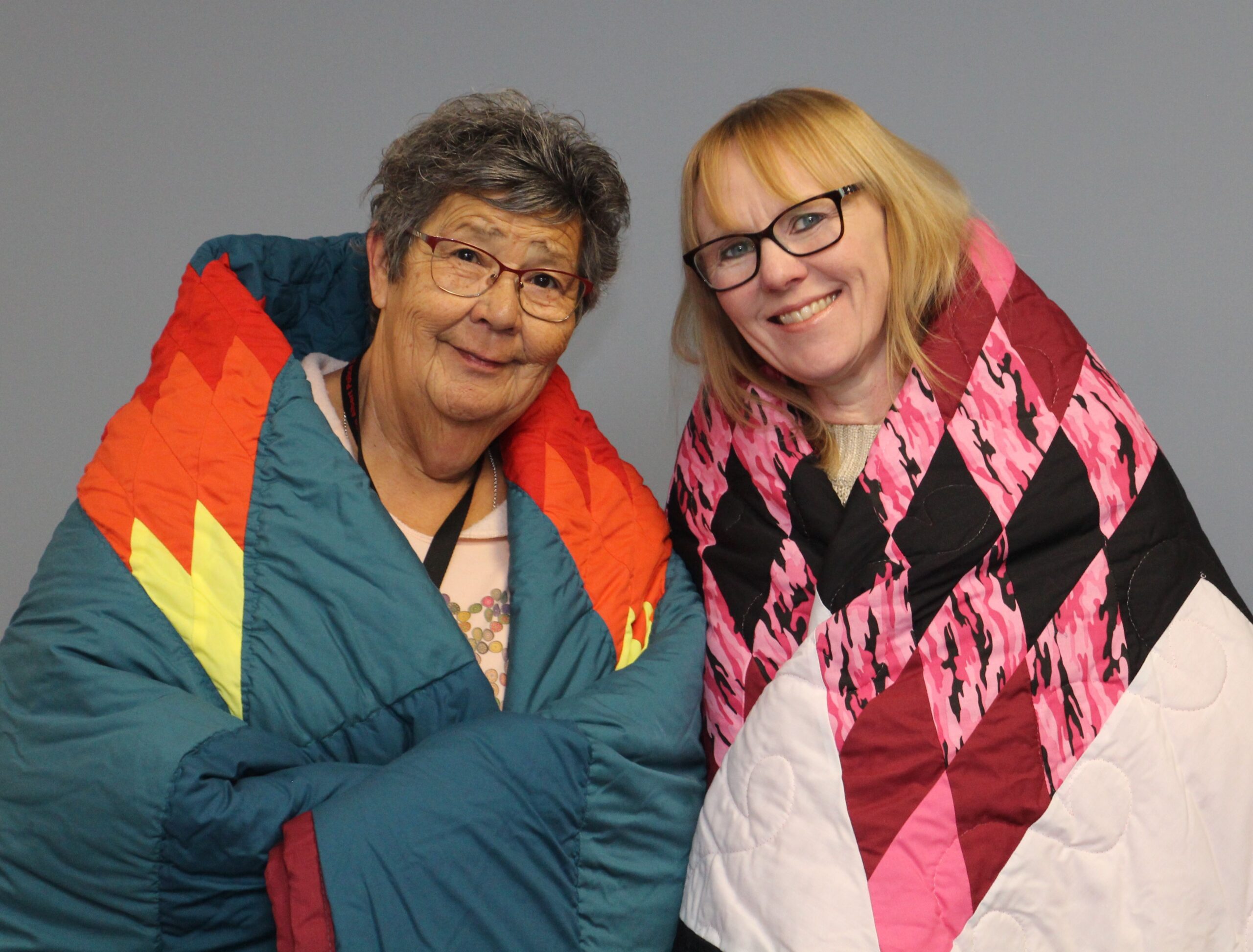 Members with the Prince Albert Police Service Women's Commission continue to meet and participate in guiding our organization as special advisors to Chief of Police Jonathan Bergen. The Women's Commission was formed last year and held its first meeting in June 2022.
Since that first meeting, the Women's Commission has developed its mission statement, discussed available services and programs for vulnerable residents, and identified opportunities to further support the police service in working with our community. The Women's Commission is chaired by Elder Liz Settee and PAPS Chaplain Nora Vedress and includes local leaders in fields such as addictions, mental health and wellness, gender and sexual diversity, integrity management, Indigenous tradition, and supports for victims of trauma and violence.
Recently, the Women's Commission reviewed the Final Report from the National Inquiry into Missing and Murdered Indigenous Women and Girls and Calls to Justice for police agencies with the aim of determining where PAPS is achieving, and where more work can be done. The Calls for Justice call on police agencies to acknowledge historical practices that have harmed Indigenous women, girls, and 2SLGBTQIA+ people, and build relationships based on understanding and awareness.
Members discussed efforts PAPS has made to encourage diversity within our organization through a new Equity, Diversity, and Inclusion (EDI) committee and work on the national Canadian Chiefs of Police EDI committee; to better respond to the needs of our community by strengthening relationships with local community leaders and taking action to add orange epaulettes on our police uniforms in recognition of National Day for Truth and Reconciliation; and continued work to recruit police members who represent the community we serve through mentoring partnerships with the Prince Albert Grand Council and Métis Nation – Saskatchewan.
"I've been an Elder for more than a year now and wasn't aware of all the good work being done behind the scenes at the police service," said Elder Settee. "The work we see publicly is just a portion of the work that is happening to respond to the Calls to Justice and actively focus on truth and reconciliation."
"The energy around that table is incredible and while each voice brings a different perspective, each one has a deep desire to empower change," added Chaplain Vedress. This is a group of people who are committed to our community, the safety of our youth and elders, and the wellbeing of our incredible police officers. I am excited to see what they are going to accomplish together."
Diana Wooden described her work with the Women's Commission this way: "We have been participating in discussions regarding building relationships with police services and community. The police chief and deputy chief are also part of this committee. They have been vocal about their willingness to not only have discussions about change, but to implement and demonstrate it across the police service. I am encouraged to know there is a willingness to continue to make changes and grow as an organization. It is evident that the leadership of the police service is interested in how we as a community can bridge gaps and have meaningful conversations that lead to positive outcomes and better relationships. I am proud to be part of this group and ongoing conversations."
Jennifer Lenny spoke about work being done to address hate and bias in our community.
"According to statistics on hate crimes and violence, 2SLGBTQIA+ Canadians continue to face harassment and physical attacks and represent the third largest category after race and religion," Lenny said. Hate crimes against gender identity are rising. As a member of the Prince Albert Police Services Women's Commission, I hope to bring a voice for the 2SLGBTQIA+ community and to continue to help to build positive relationships between the 2SLGBTQIA+ community and the Police. This also meets 9.2(iii) Calls to Justice for Police Services."
Gina Martin with the Commission said "I have been inspired by our committee. We have a diverse, compassionate and valuable set of individuals who represent human services, law enforcement, First Nations organizations, and the community. When we reviewed The Calls for Justice from the Truth and Reconciliation Commission, I was both proud and empowered by what the Prince Albert Police Service and our community has implemented to address The Calls for Justice and inspire solutions for change. By collaborating at a community level, we can monumentally inspire equality, create cultural safety and promote healing within our city. Coming together is a beginning to create collective power."
Pointing to the Mission of the Women's Commission to empower and influence our community and police service to balance trust, Robin Poliszuk added that "we are creating ripples of positive change to support the wellness of our police service and broader community."
Continued efforts to support truth and reconciliation and build awareness and understanding include:
Organizing community events that support discussions on Truth and Reconciliation. Chief Cadmus Delorme was the guest speaker at an event in November 2022
Partnering with families and media to raise awareness about missing and murdered residents from our community, including a campaign to post billboards in locations across Saskatchewan, Alberta, and Manitoba
Mentoring partnerships with the Prince Albert Grand Council (PAGC) and Métis Nation-Saskatchewan
Participation at the PAGC Braiding Knowledge for Safe Communities conference in December 2022. Chief of Police Jonathan Bergen was invited to participate in a symposium in December to address gang violence, drugs and other safety concerns in PAGC First Nations communities
The addition of orange epaulettes on PAPS uniforms to recognize the National Day for Truth and Reconciliation
Opportunities for all members to take Cree language classes.
Support and participation at many community and awareness events, including the annual Pride parade, Indigenous Day at Carlton Comprehensive Public High School, Remembrance Day ceremonies for Indigenous veterans, Red Dress Day, the Heart of the Youth PowWow
Culturally-appropriate guidance and Indigenous teachings for all PAPS members
Coordination through PAPS VSU of the Second Feast and Round Dance in October 2019 in collaboration with RCMP.
Training opportunities for all members on unconscious bias
The removal of an $80 fee for police applicants to run the POPAT, or physical test, to become a police officer to allow individuals to attempt the test regardless of their financial situation
The next meeting of Prince Albert Police Service Women's Commission is scheduled to take place in March.